Available for Shipping or a Scheduled Pickup
It's a simple message . . . but it says so much. 

Choose shipping or pickup at checkout or decorate in the studio!
INCLUDES
premade 6" cake serving 8-10, filled and crumbcoated
rainbow sprinkles
letter cutouts
heart cutter
red fondant
easy-to-follow instructions
earth-friendly packaging
*Each batch of frosting and fondant is colored by hand, making slight variations in color possible. You may also receive slightly different tools than those listed to re-create this cake.
Regular price
Sale price
$55.00 USD
Unit price
per
Sale
Sold out
Share
View full details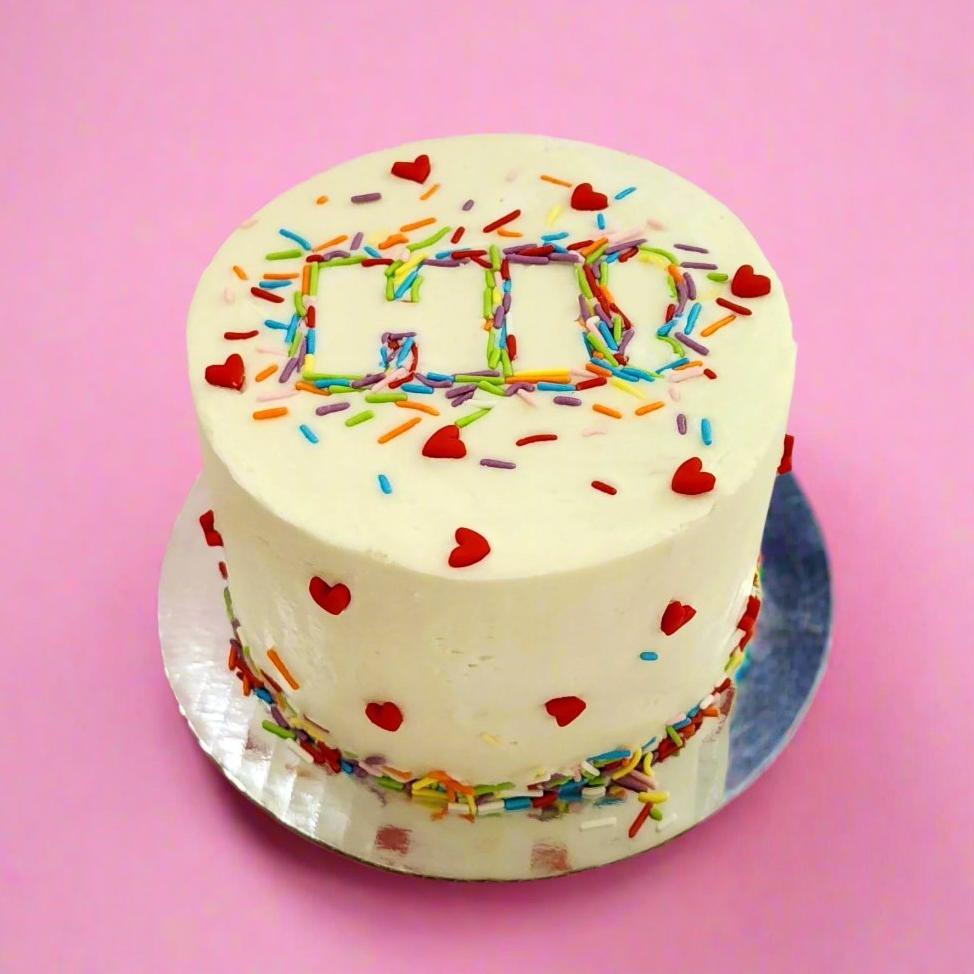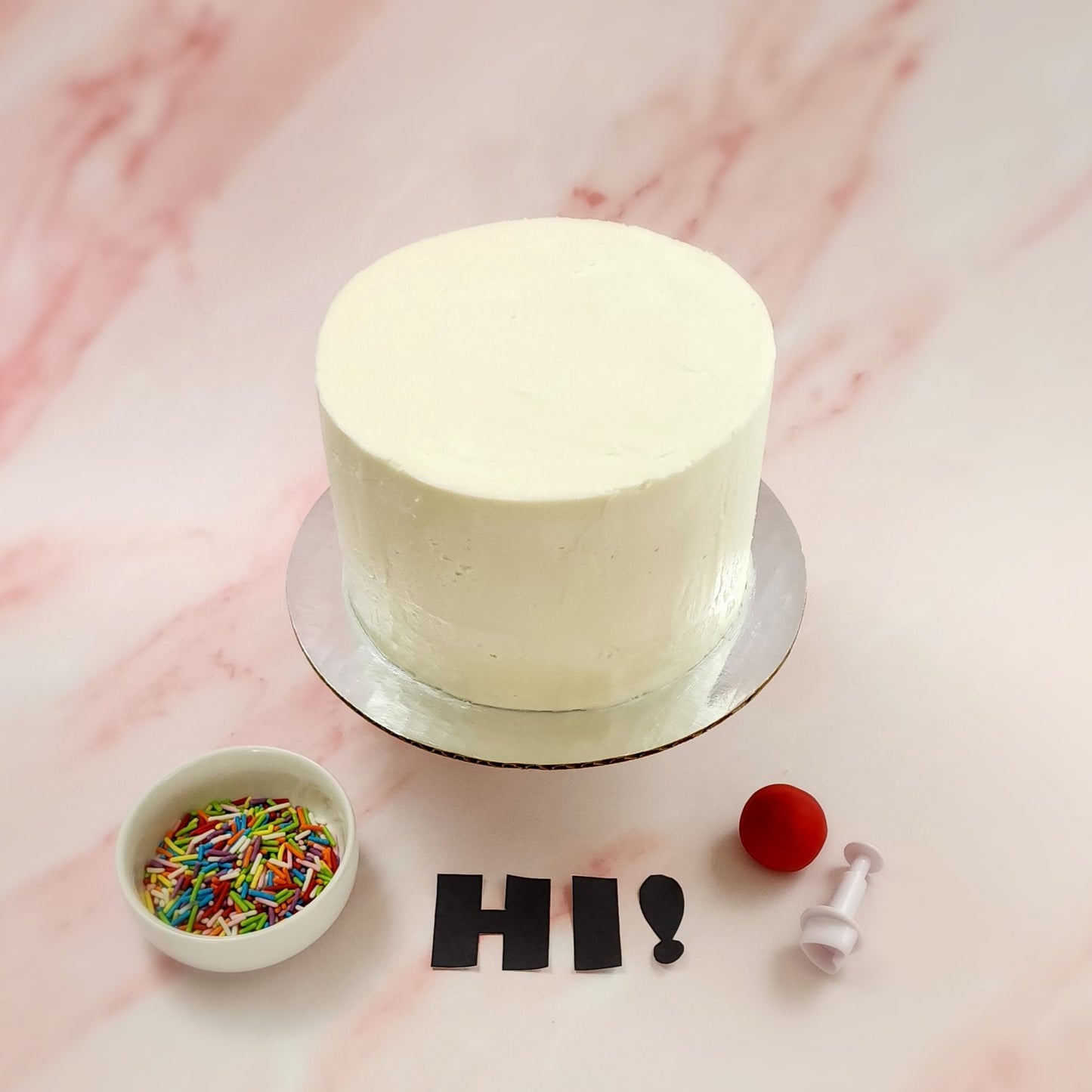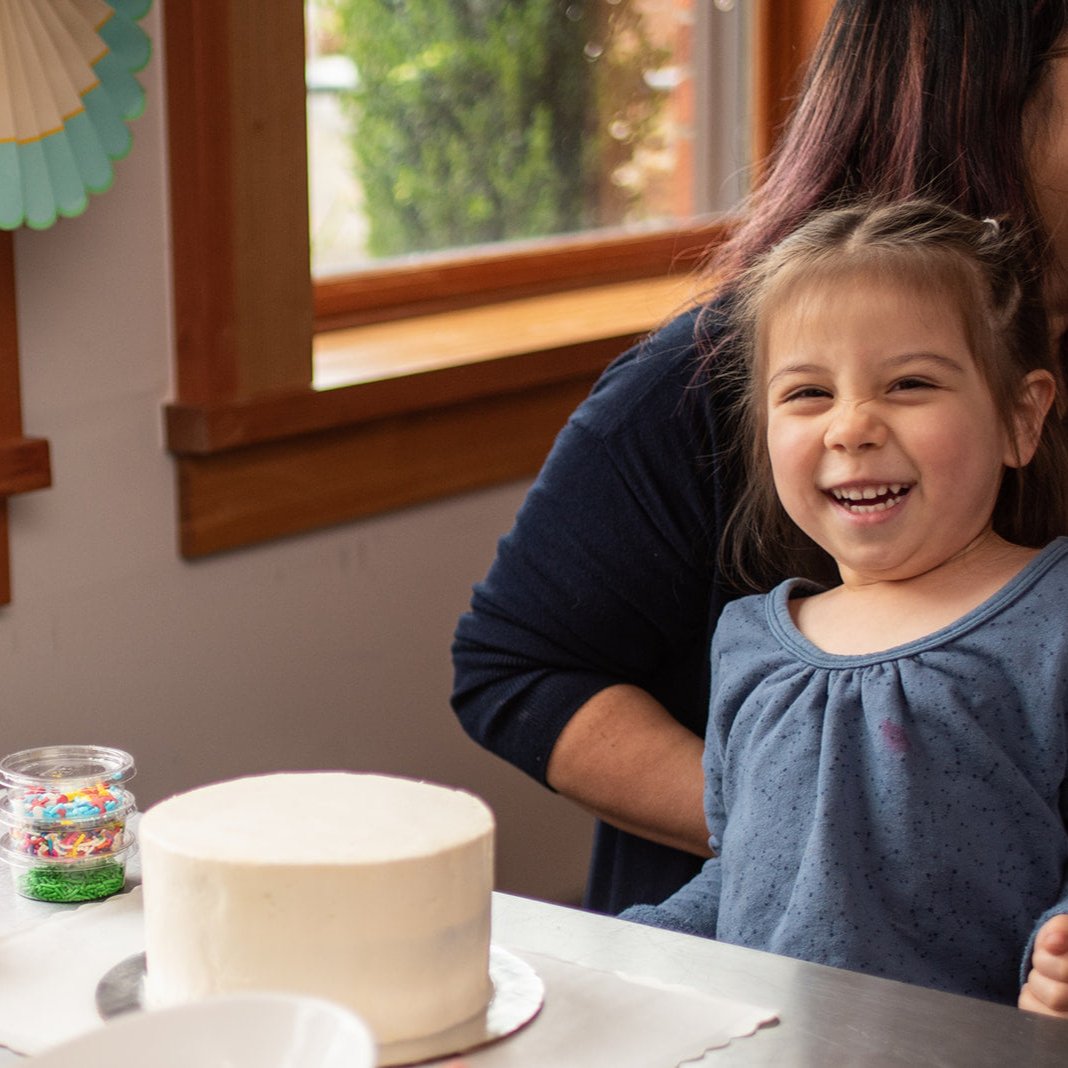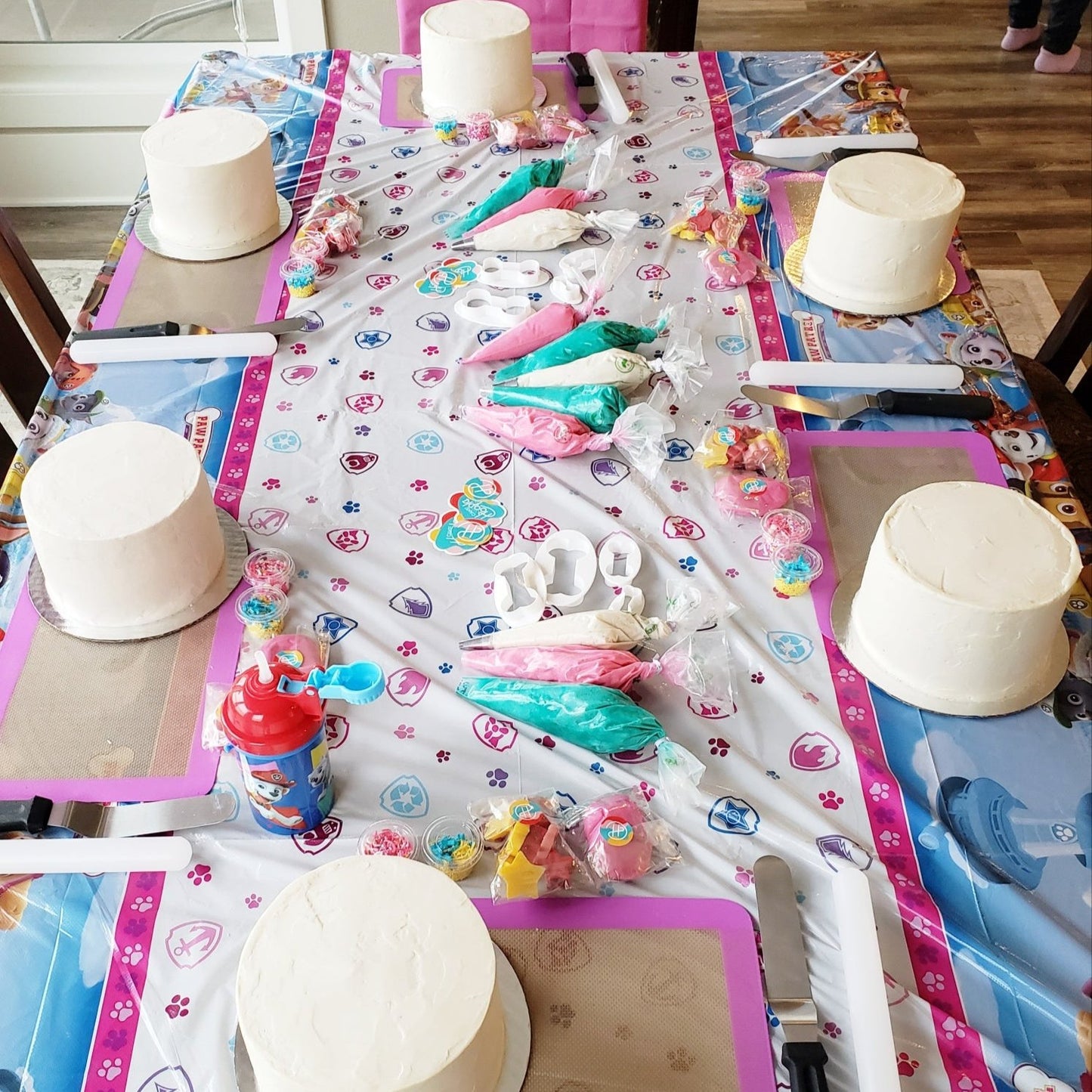 Collapsible content
pickup & delivery

You may pick up your order during business hours at Cake 7173 SW Dartmouth St., Tigard, OR 97223. Just select "Pick Up" at checkout.

If you are unable to make it to your scheduled pickup day, please call 971.610.6530 and we will try really hard to reschedule.

Subject to availability, we offer free delivery in the Portland-Metro area on orders over $150 and delivery for $1/mile on orders less than $150.

Please email hey@cakehoopla.com or call 971.610.6530 to schedule a delivery or to ask about deliveries outside the Portland-Metro area.
cake care instructions

Cakes/cupcakes are best decorated at room temperature. If frozen, let the cake/cupcakes and all ingredients thaw to room temperature. This may take a few hours. If you're not quite ready to decorate, store the cake/cupcakes and ingredients in the fridge.

Remove the cake/cupcakes and ingredients from the fridge 1 hour before decorating or serving to bring them to room temperature.

When you're ready to decorate, carefully remove the plastic wrap from around the cake and remove cupcakes from their holders.

Store leftovers in an air-tight container in the fridge for up to 5 days or in the freezer for up to 1 month. To avoid color changes, store the cake/cupcakes out of direct light.
serving tips

Wipe the drool from your face.

Eat the cake/cupcakes at room temperature.

For cakes: Run a large knife in hot water, dry it with a towel, slice the cake. Wipe clean between cutting each slice. Repeat as the knife cools.
shipping

Cake Hoopla's DIY cake and cupcake kits ship frozen with reusable gel packs and natural fiber insulation. They may thaw during transit but should arrive cold. Because of their perishable nature, we ship cake and cupcake kits using a 2- or 3-day transit time. To help ensure they arrive fresh, we ship only on Mondays and Tuesdays, excluding holidays. All orders placed on or before Sunday, will ship the following Monday or Tuesday.

If you need to buy a kit for a future event, email hey@cakehoopla.com with your desired shipping/arrival date, and we'll hold off on fulfiling your order until the right time.

PLEASE CHECK THE WEATHER FORCAST before ordering. If the weather is too hot during the shipping time, the cake/cupcake kit may melt in transit. Cake Hoopla is not responsible for such occurrences.

Why is shipping so expensive!?!?... one might ask. Well, there are a few reasons. Cake Hoopla is committed to sustainable shipping practices, including the use of natural fiber insulation instead of foam insulation that never biodegrades. We must also ship our products with short transit times to help ensure freshness. Unfortunately, these things increase shipping costs. We feel your pain!
returns & refunds

Cake and cupcake kits are final sale. Because of their perishable nature, we cannot accept returns. Cake Hoopla is not responsible for packages determined undeliverable by the carrier or returned due to an incomplete/incorrect address. Cake Hoopla does not offer refunds on cake or cupcake kits, unless we made an error in fulfilling your order. If that is the case, please contact us within 14 days of delivery at hey@cakehoopla.com or by calling 971-610-6530. We handle each issue on a case-by-case basis.
Excellent and a lot of fun
I recently purchased 4 take-out cake kits for my 11yo daughter's birthday party. The kids had a great time decorating their cakes. Although directions were provided for each kit, they shared decorations to personally style their cakes, and leftovers were taken home with them as party gifts. (A picture was sent to each kid's parent to show what their kid's cake looked like before they cut into it.) The icing colors were stunning. All the cakes were delicious, but I especially liked the vanilla flavor, perfect icing to cake ratio.
Great Party!
Jojo with Cake Hoopla provided our party of about 20 seniors with individual cakes and helped us decorate them. She was an excellent teacher and the cakes were delicious. I will recommend her company for a fun party for any group.
Milestone celebration bringing home baby
Jojo and Cake Hoopla helped my family make amazing memories. I had the idea to have my son decorate a cake for us to share as a family when we brought home our second baby. While I was in the hospital, Jojo delivered the cake that I had ordered in advance. My mom and 2 year old son had a blast decorating it. When we got home from the hospital my son cut the cake and we celebrated him becoming a big brother and baby sister being born. The funfetti cake was yummy and the decoration on the confetti Hi! Cake was perfect for the celebration. I know this will become one of my fondest memories of sharing cake to mark this milestone moment for our family. I'm so grateful Jojo was willing to coordinate with me to make it all happen. An amazing experience all around and I would definitely recommend!