Book a 2-hour party for up to 18 people in our private party room. With a fun and vibrant atmosphere, beer and wine for purchase, and exclusive use of our photo booth station, it's THE venue for kids and adults alike!
In-studio parties include a 6" cake per person (serves 8-10) or 6 full-sized cupcakes per person in your choice of cake flavors; all the frosting, fondant, sprinkles, and tools your guests need to decorate like a pro; and handy to-go boxes. Double the cupcakes to 12 for only $5.00 more per person! 
Prices start at $325. Select a date, pay the deposit, and you're on your way to some sweet, sweet fun. Check out the party packages below.
Need to book a bigger party? Contact us to book the entire studio for up to 47 people. 
Regular price
$150.00 USD
Regular price
Sale price
$150.00 USD
Unit price
per
Sale
Sold out
Share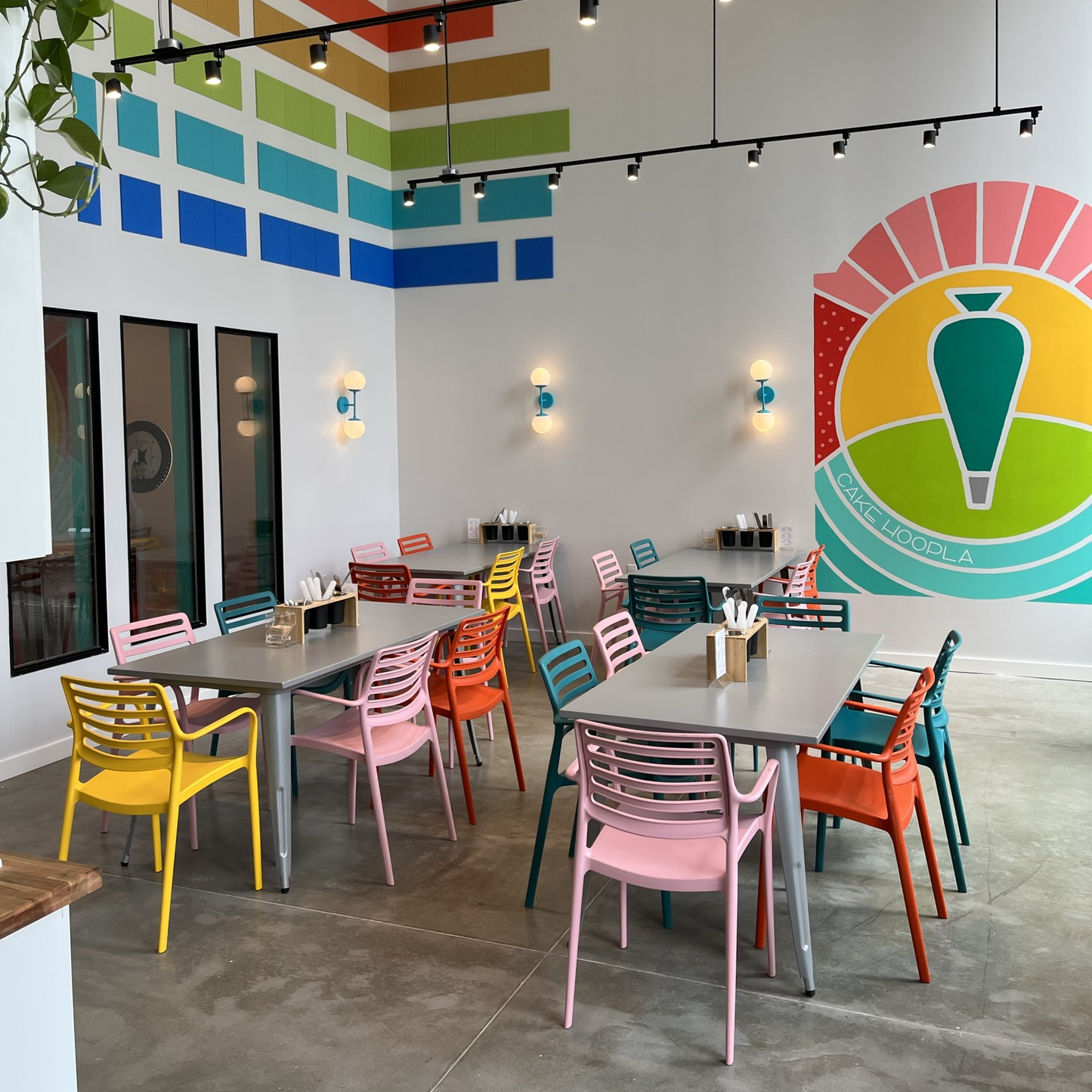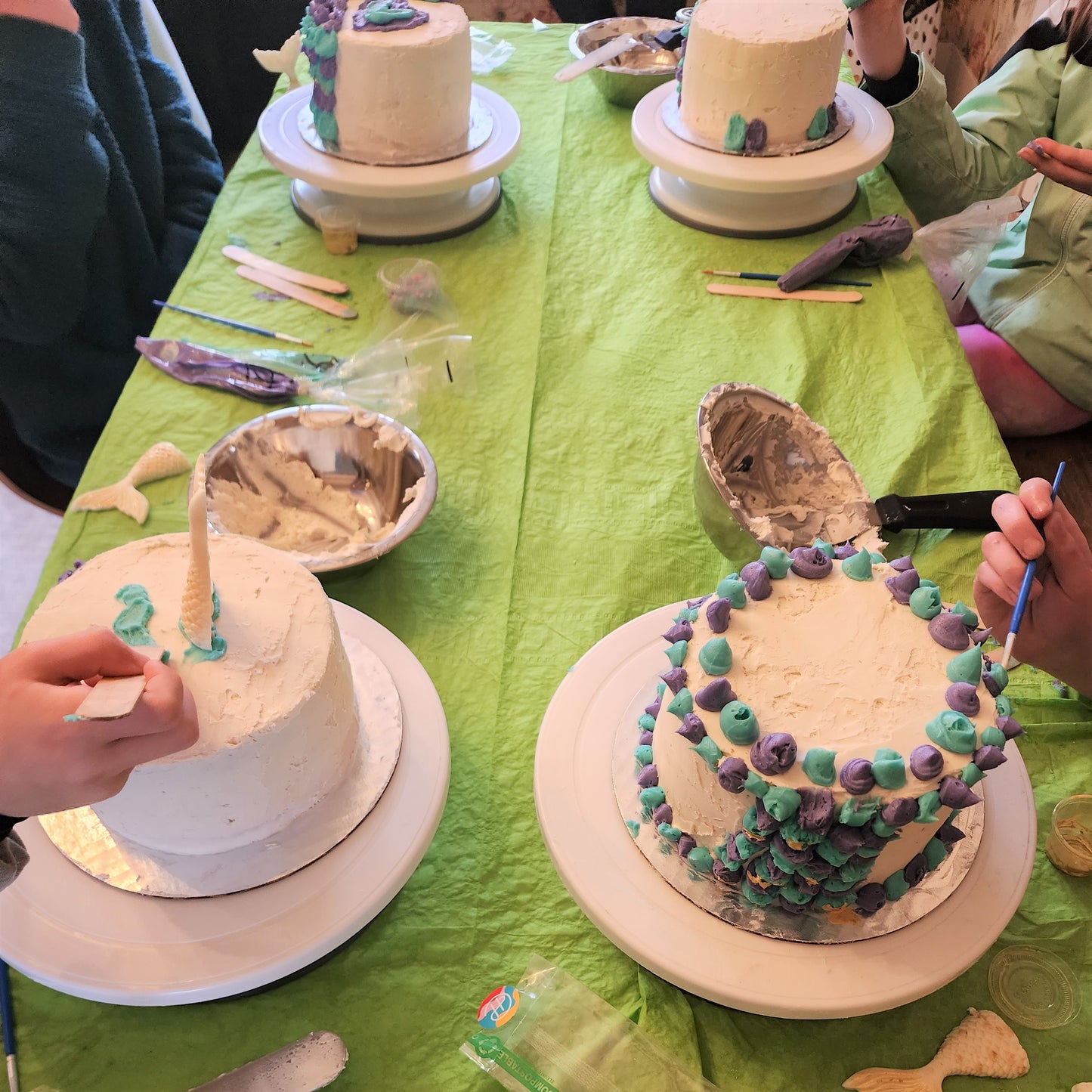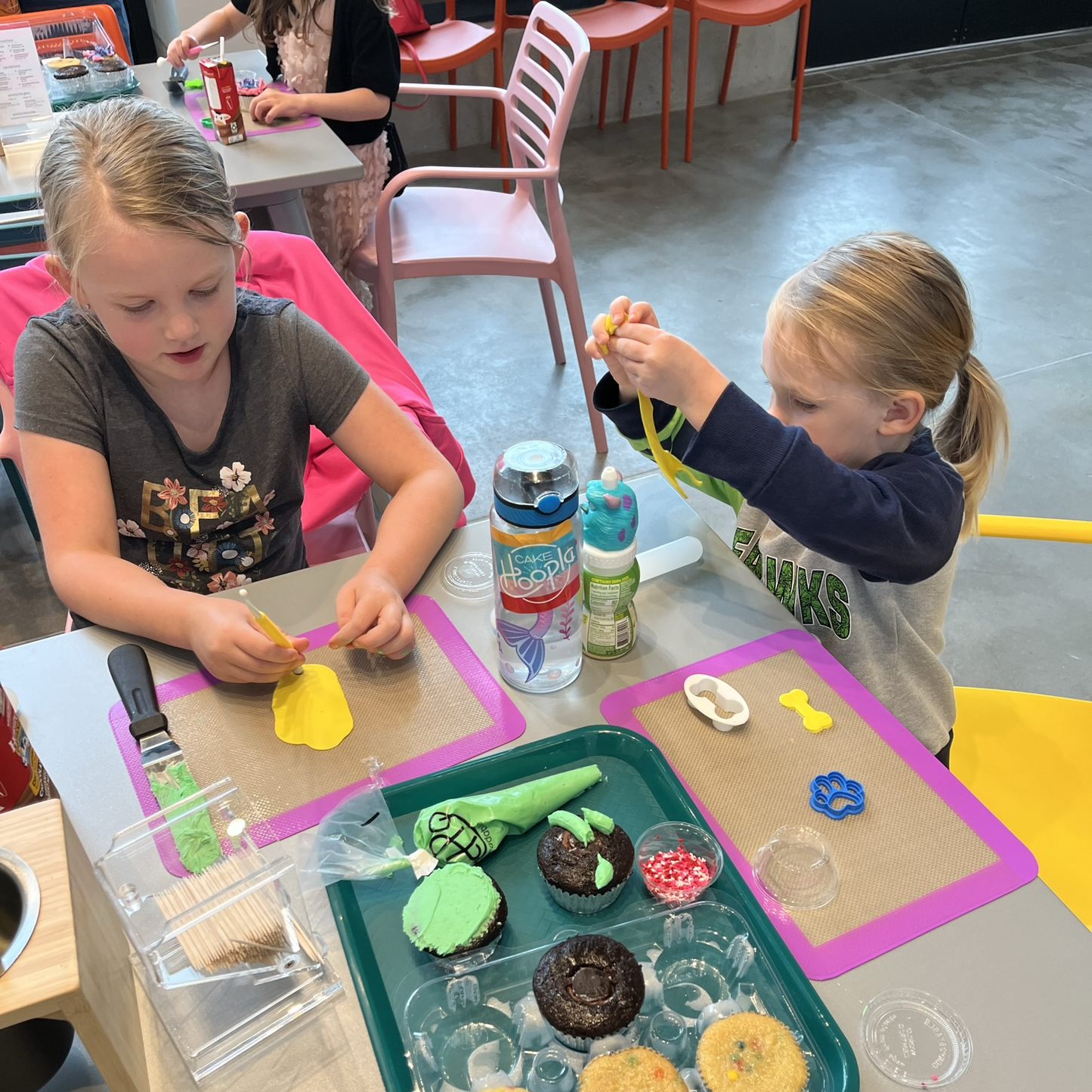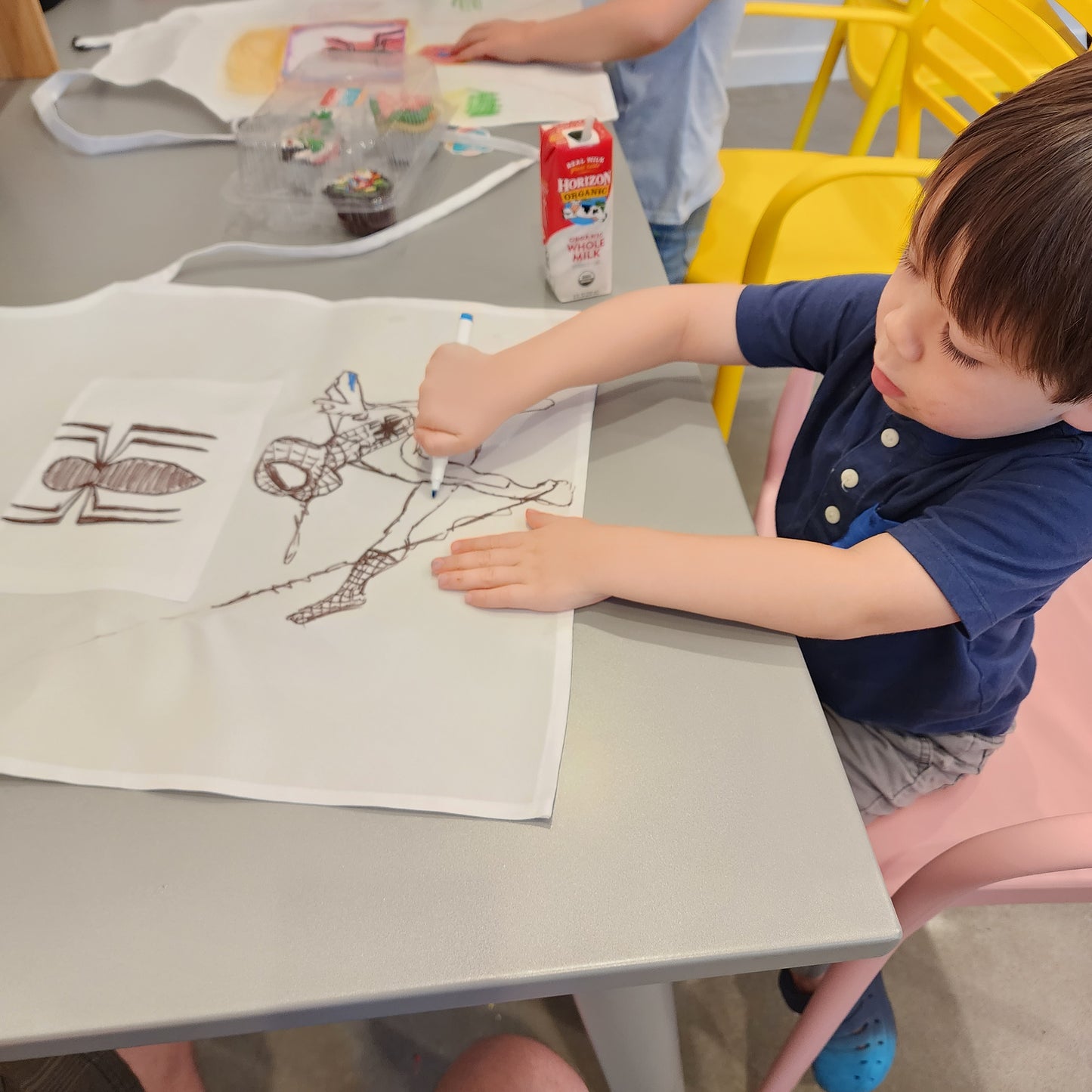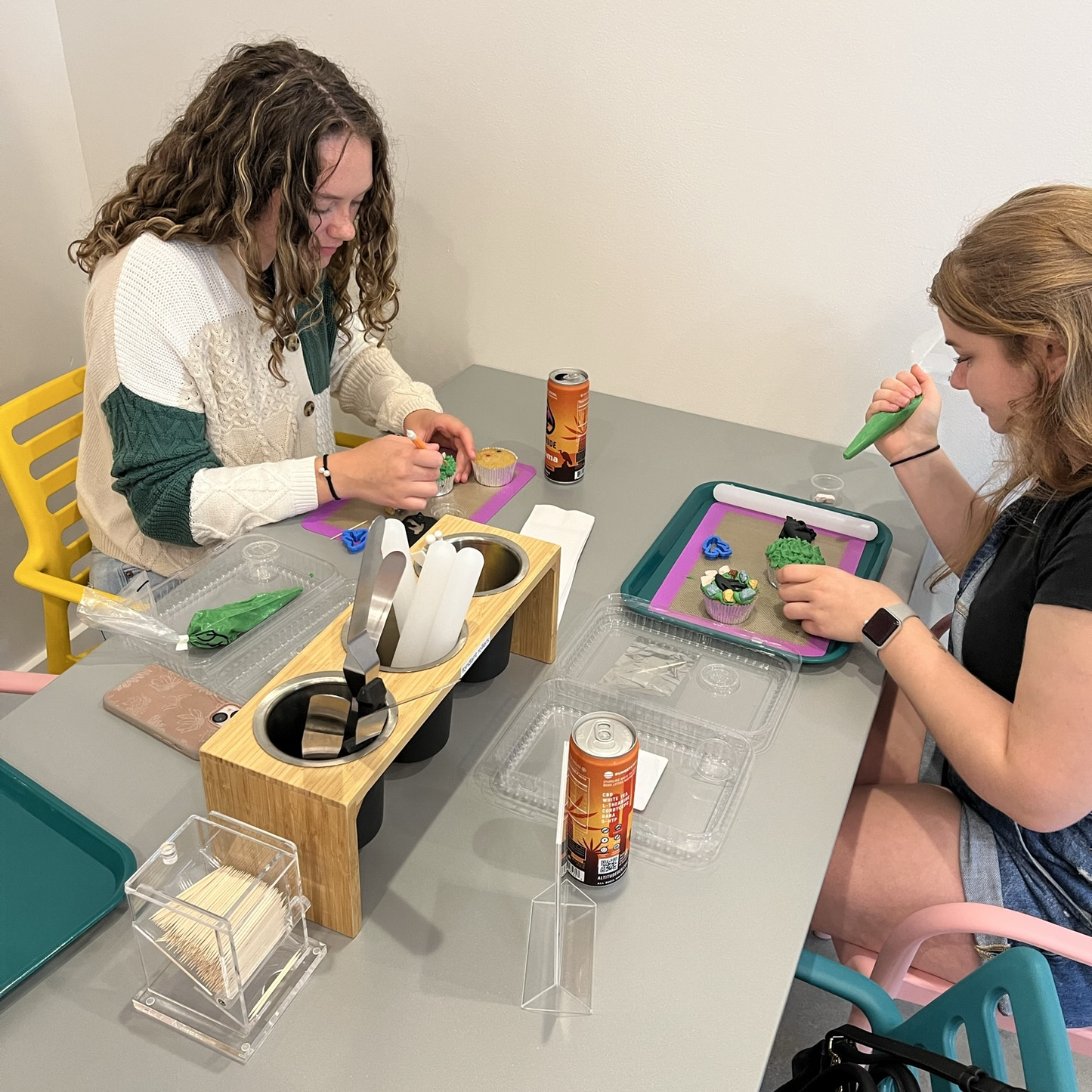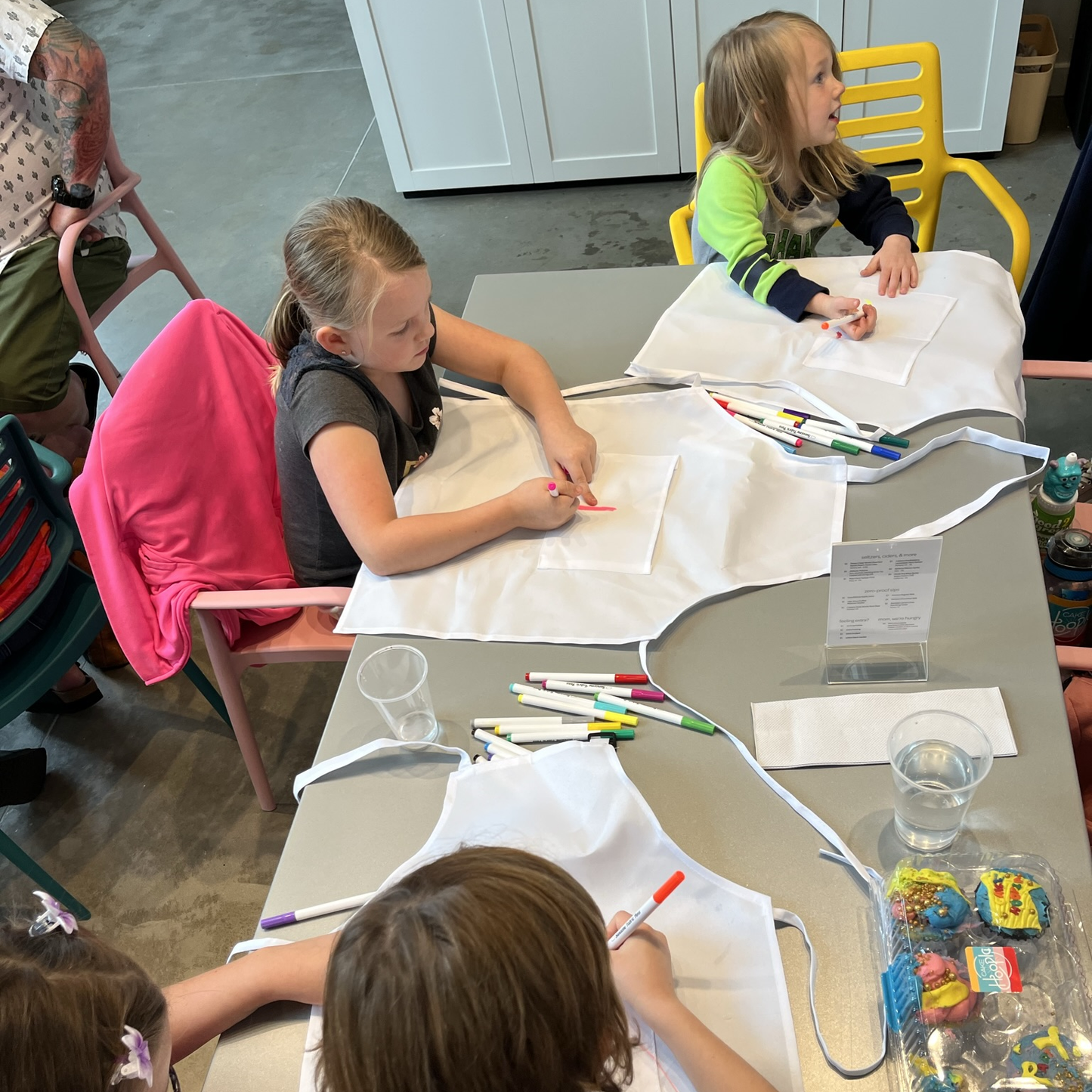 Collapsible content
steps for booking

1. Pick a party package. Choose between 3 party styles, available in both cakes and cupcakes. 

2. Book a date. Book a date with a refundable $150 room-booking deposit. The deposit will apply toward the final price of the party.

3. Give us the deets. After clicking "book now!" you'll be asked to provide details for your event, like cake design and the expected number of guests. We'll give you a call to work out any remaining details.

4. Pay the balance. We'll email you an invoice to pay the remaining balance a few days before the event. 
party packages

1. Wild and Free Party Package. Choose 2 fondant colors, 2 frosting colors, and 2 sprinkles per decorator. With access to decorating tools, your guests get creative and come up with a design totally their own!

Cupcake parties: $325 for up to 10 guests and $15 for each additional guest over 10.

Cake parties: $375 for up to 10 guests and $20 for each additional guest over 10.

2. Bob Ross Party Package. Choose one of Cake Hoopla's fab cake or cupcake designs. Your guests will follow easy-peasy instruction cards as inspiration for their final design.


Cupcake parties: $350 for up to 10 guests and $15 for each additional guest over 10.


Cake parties: $400 for up to 10 guests and $20 for each additional guest.

3. Bespoke Party Package. A totally customizable option. Email or call for a quote!
super-fun extras!

Here are some add-ons to make your event extra special:

Convert your party to a workshop with live instruction by a Hoopla Helper for $50.00.
RECOMMENDED FOR KIDS ages 4-12: To extend the party magic, include apron decorating before cake decorating. Each kid will receive an adjustable white apron to decorate with fabric markers. The apron is one-size and fits most kids sized 5 to 10/12. Only $3.00 per kid!
Double your cupcakes from 6 to 12 for $5.00/person.
Extra fondant: $3.00 per portion.
Extra frosting: $3.00 per piping bag.
Edible black marker: $5.00 per marker.
Extra sprinkles: $2.00 per container.
Don't forget we have beer and wine available to humans 21+. 
party room policies

Payment:

Paying the $150 deposit reserves the party room exclusively for your use during the allotted time. We will apply the booking fee to the final price of your event. An invoice to pay the remaining balance will be emailed to you before the day of the event. Failure to pay the balance before the day of the event may result in forfeiture of the $150 deposit and cancellation of your booking.

Set up time:

Parties at the Cake Hoopla studio are booked every 2 hours, with 30 minutes in between. You are welcome to arrive up to 20 minutes before the party to set up decorations. Just know that we may still be cleaning up from the last event. Please contact us if you think you'll need more time to set up for your event.

Decorations:

We welcome you to decorate the party room with any removable, non-permanent decorations. The party room has 3 tables, each 63"x 30". Table clothes are great, just be prepared for them to get messy!

Food & drink:

Feel free to bring food and non-alcoholic drinks for your party guests. Please no alcoholic drinks. You can purchase beer, wine, and more at Cake Hoopla. We welcome your themed tableware, but we can supply earth-friendly disposable paper plates, napkins, and utensils as well.

Apron decorating:

We recommend younger party-goers (12 and under) add on apron decorating as a party activity. At only $3.00/person, it's a great way to engage young minds, extend the fun, and get some fabulous pics!

Party schedule:

When you arrive for your event, check in at reception and let us know how you would like your party to flow. Typically, we allot about 1/2 an hour for guests to get settled, eat any outside food, and/or decorate aprons (if applicable) before we bring out the cakes. Decorating time varies and depends on the cake design and skill level of the party-goers. Expect anywhere from 1/2 to 1 1/2 hours for decorating. As guests wrap up decorating, they're encouraged to take fancy digital photos at our photo booth station.
cancellation policy

A $150 deposit is due at the time of booking. The remaining balance will be collected up to 2 days prior to your event. Failure to pay the remaining balance before the da of the event may result in forfeiture of the $150 deposit and cancellation of your booking.

Event reservations must be canceled with at least 10 days' notice to be eligible for a full refund. If canceled with less than 10 days' notice but more than 2 days' notice, event credit will be issued.

Cancellations within 2 days of the event cannot be refunded.

Please contact us at hey@cakehoopla.com or  971.610.6530 to make changes to the event details (like the number of cakes).
cake care instructions

After your event, store leftovers in an airtight container in the firdge for up to 5 days or in the freezer for up to 1 month. To avoid color changes, store the cake/cupcakes out of direct light.

Serving tips:

Eat cakes/cupcakes at room temperature.
For cakes, run a large knife in hot water, dry it with a towel, slice the cake. Wipe the knife clean between cutting each slice. Repeat as the knife cools.